Dr. Marvin is featured in The Dark Matter of Love, a fascinating documentary about the science of love. The film is related to the hopes and challenges involved in becoming a successful foster or adoptive family.
Contact Marilyn if interested in attending a screening in Charlottesville, VA on Oct. 30th. Co-sponsored by Albemarle Department of Social Services and the Circle of Security Network.

Every child comes into the world seeking a secure relationship with her/his caregivers. The Circle of Security® program helps promote that security.
The Circle of Security® is an innovative intervention program designed to improve the developmental pathway of children and their parents. Robert Marvin, at the University of Virginia in Charlottesville, and Glen Cooper, Kent Hoffman, and Bert Powell from Marycliff Institute in Spokane, Washington were the originators of this unique, evidence-based program.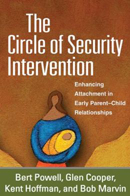 Book Now Available: The Circle of Security Intervention: Enhancing Attachment in Early Parent-Child Relationships